Moisture & Shine Mist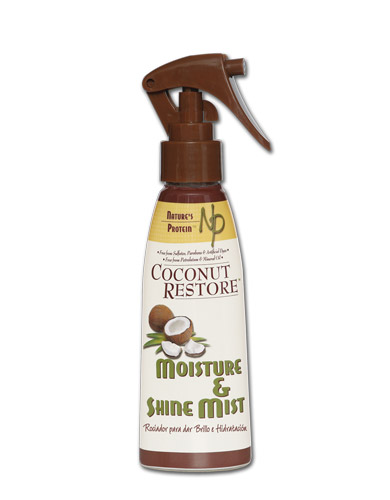 Replenish Curls and natural hair's moisture balance while improving elasticity and shine. Lightweight sprayable natural oil blend infused with Coconut Oil, Argan Oil and Jojoba Oil for ultimate shine and protection from frizz and heat. Can be used on wet or dry hair for style preparation and/or finishing.
---
Directions
TO INCREASE ON SHINE AND MANAGABILITY. Finish your style by spraying product on hair lightly to complete your look. Adds shine and softness to hair after it has been styled.
WARNING: HAIR IS FLAMMABLE. KEEP HAIR AWAY FOM FIRE, FLAMES AND EXTREME HEAT. Do not use while smoking. Flammability may increase when using leave on products. Keep out of reach of children.
---
Key Ingredients
Coconut Oil – Moisturization
Argan Oil – Protect & Hydrate
Jojoba Oil – Prevents moisture loss from hair
Infused with Extra Virgin Coconut Oil
• Free from Sulfates, Parabens & Artificial Dyes •
• Free from Petrolatum & Mineral Oil •